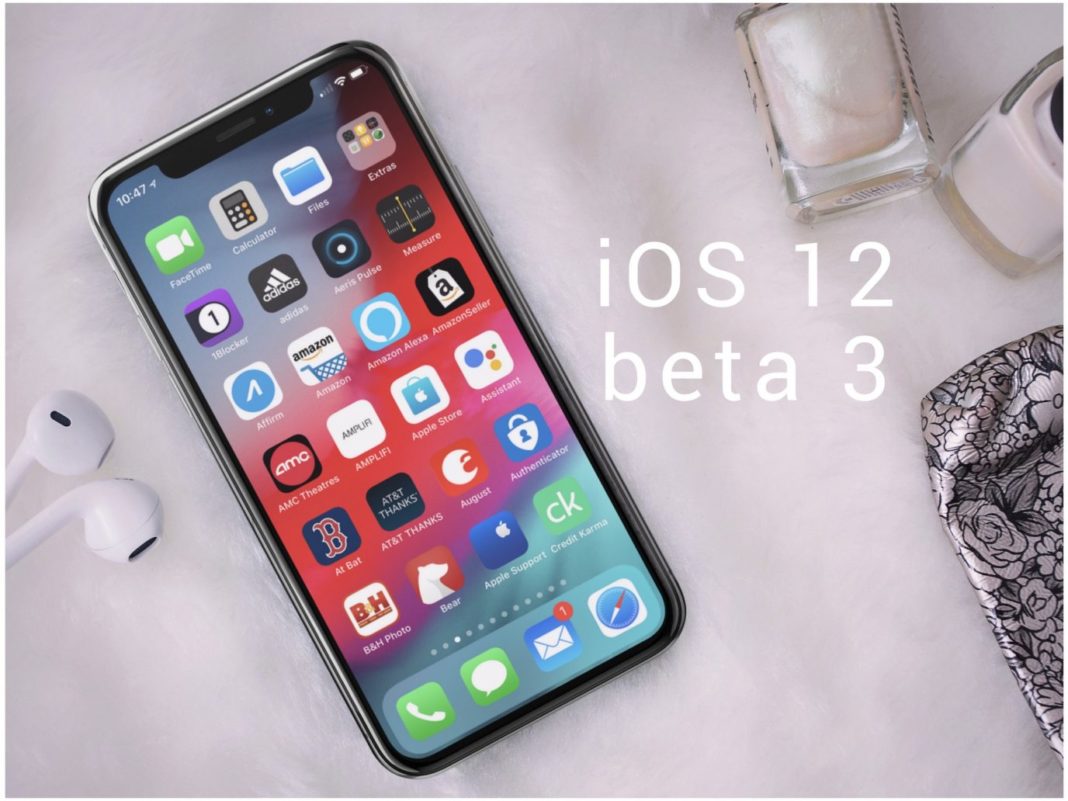 Δύο εβδομάδες μετά την διάθεση της 2ης beta σήμερα είχαμε την κυκλοφορία της beta 3 της επερχόμενης έκδοσης του iOS 12.
Όπως σας έχουμε αναφέρει η εν λόγω έκδοση φέρνει σημαντικές αλλαγές τόσο σε iPhone όσο και σε iPad ενώ υπάρχουν σημαντικές βελτιώσεις σε θέματα αποδόσεων και ταχύτητας για παλαιότερες συσκευές. Επιπλέον έχουν την έλευση του ARKit 2.0, καλύτερη αναζήτηση και διαμερισμό από την εφαρμογή Photos, εισαγωγή της Siri σε εφαρμογές τρίτων, συντομεύσεις στην Siri, πλήρως ανανεωμένες εφαρμογές όπως τα Apple Books και Voice Memos, Screen Time γονικό έλεγχο, Memoji στην εφαρμογή των Μηνυμάτων, υποστήριξη μέχρι και 32 ατόμων σε παράλληλη συνεδρία στο FaceTime και πολλά πολλά ακόμη.
Σύμφωνα με το συνοδευτικό κείμενο αυτής της 3ης beta που δόθηκε στους προγραμματιστές:
[NEW] To improve security, iOS 12 beta may require you unlock your passcode-protected iPhone, iPad, or iPod touch in order to connect it to a Mac, PC, or USB accessory.
[NEW] If you use iPod Accessory Protocol (iAP) USB accessories over the Lightning connector (such as CarPlay, assistive devices, charging accessories, or storage carts) or you connect to a Mac or PC you might need to unlock your device to recognize the accessory. If you don't unlock your device, it won't communicate with the accessory or computer, and it won't charge. Note that you don't need to unlock your device to charge using an Apple USB power adapter.
[RESOLVED] Weather widget fixed from Beta 2.
[RESOLVED] Updating to iOS 12 beta through iTunes is resolved
[RESOLVED] Skype/ Taobao/Twitter issues fixed
[RESOLVED] Playback might not pause when only one of the AirPods is removed from your ears.
[RESOLVED] SMS and Phone Call spam classification extensions don't load and display a black screen
[RESOLVED] FaceTime might unexpectedly quit on launch.
[RESOLVED] If a user attempts to enable a SIM PIN the iOS device will lose cellular service.
[RESOLVED] Voicemail notifications might be inconsistent and not appear when the device is locked.
[RESOLVED] When Siri's language is set to Chinese, Japanese, or Korean it isn't possible to set up "Hey Siri".
Known Issues:
[BUG] GPS works fine in Apple Maps but is wonky in Google Maps (presumably in other third-party apps as well)
[BUG] Use only numbers when creating a Screen Time passcode or it might become impossible to enter the passcode
[BUG] Fortnite might quit unexpectedly
[BUG] Netflix might unexpectedly quit when downloading a video
[BUG] Screen Time data might not synchronize across iOS devices.
[BUG] "Picked Up Phone" statistics might be inflated due to data syncing from other devices signed into the same iCloud account.
[BUG] When searching via Spotlight, internet results might unexpectedly be ranked higher than local results.
[BUG] Voice Memos don't sync to iTunes.
[BUG] Wallet might unexpectedly quit on launch.